We owe our success to our people.
Being supported in your professional development, having your contributions and unique talents valued, feeling a sense of challenge and purpose, and being surrounded by a highly engaged team that loves what they do are just a few of the reasons to join us at Crombie.
44 Years
Longest Serving Employee
---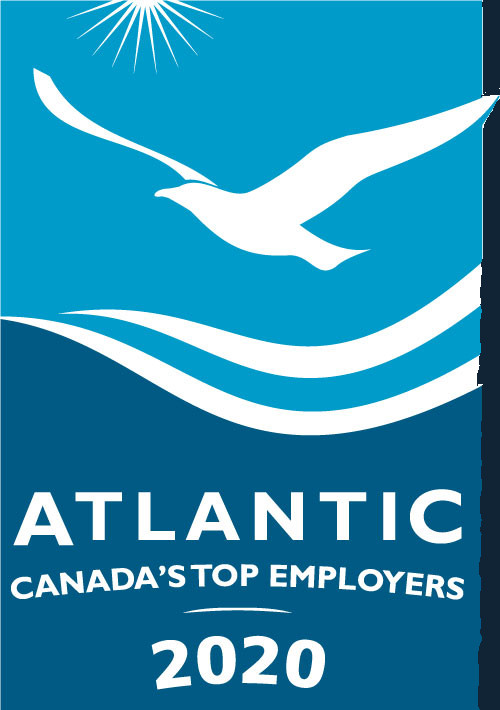 Atlantic Canada's Top Employers
We're proud of the awards we've won, including Atlantic Canada's Top Employer for the last six years. These awards recognize that we're building a space where talented people want to work. That space, and those people, are our number one priority.
It's important to love where you work!
Crombie isn't your typical REIT. And working at Crombie isn't like working anywhere else. Although we're spread across Canada, we're a tight-knit team all working toward one common goal: to enrich communities through long-term sustainable growth.
Competitive compensation, flexible work arrangements, learning and development opportunities, and some of the best colleagues in the industry are just some of the reasons to build your career at Crombie.
Learn more about life at Crombie
In my work, I love to challenge and improve current processes
"Crombie empowers me to do what I do best. My colleagues are passionate about what they do and understand the value of teamwork. As an organization, we collaborate together as one team which is a strong contributor to the company's success."
Carla Quigley
Senior Manager, Internal Reporting
Crombie's culture creates a sense of family
"I work with a really great team who make me feel like a part of the Crombie family. This sets the organization apart from other places I've worked in the past, and really inspires me to work hard and contribute to Crombie's ongoing success."
Thehani Guruge
Lawyer
Crombie has constantly progressed over the course of my four years with the company.
"Its evolution from an Atlantic Canadian-focused portfolio of enclosed centers and retail strip plazas, to a national REIT and developer of large mixed-use properties is what inspires me most about Crombie's future."
Patrick Langille
Manager, Corporate Realty Tax
Crombie understands that its people are at the center of its success, and it shows.
"The company culture encourages personal development, prioritizes employee well-being, and promotes continual growth. When I joined the organization in 2019, I realized very quickly that Crombie is the right fit for me to build a fulfilling career."
Kaitlyn Siddall
Communications Specialist
I'm proud of how resilient Crombie has proven to be over the past year
"Navigating through the COVID-19 pandemic through the year, the team has demonstrated great agility and adaptability through strong communication and collaboration."
Annie Smith
Analyst, Corporate Development
Crombie has evolved
"Crombie has evolved from a portfolio primarily consisting of community shopping centers, to include mixed-use, larger scale developments. This evolution and quality of our portfolio is an exciting transformation toward the future success of the company. Crombie's strong relationship with Sobeys, our preferred partner, builds on this success and helps establish us as a leader in Canadian real estate."
Karen Solursh-Smith
Director, Leasing
Development projects are very exciting to me
"As part of the construction team, Crombie's pipeline of development projects is very exciting to me. I'm enabled to contribute to the success of the organization by driving projects with the skills I've acquired through experience, continued learning, and personal development opportunities. I learn from my colleagues, and that pushes me to set ambitious goals and continually work toward achieving them."
Michael Glynn
Project Manager
Commitment, collaboration, integrity, and relationships
"From my perspective, the most important of Crombie's guiding values are commitment, collaboration, integrity, and relationships. I feel that these values drive a business, and without them, it's challenging to make forward progress or have a healthy culture. Crombie lives these values every day through its commitment to enriching communities, supporting its tenants, and empowering employees. This dedication makes me a proud member of the team."
Ruth Martin
Director, Investor Relations and Financial Analysis
We are a tight-knit, dedicated, and strong team
"Although we are spread out across Canada, we are a tight-knit, dedicated, and strong team, all working toward common goals. My job is to help find the right people to build an engaged, skillful team that not only contributes to Crombie's success today, but ensures we have a talented team to support Crombie's future. My colleagues are some of the best in the industry."
Rebecca MacNeil
Manager, Recruitment and Employee Engagement
Balancing future plans and aspirations with the foundational culture
"As a large, successful organization, it's important to set ambitious goals and focus on the future; but it's equally important to stay true to company roots and values. Crombie does an excellent job of balancing future plans and aspirations with the foundational culture that's helped to build its success".
Michael Verge
Director, Information Systems and Technology
Sustainable design and construction is embedded in Crombie's development process
"I love being a part of an organization that considers building an environmentally sustainable future a key focus. Working directly on Crombie's developments, that are enriching the communities where we live and work, is something that fuels me to continue to build my career with Crombie.
Ian MacDonald
Manager, Development
I started my career with Crombie as an Assistant Property Manager 14 years ago.
In that time, I progressed through increasingly challenging positions, most recently becoming Director of Operations for Atlantic Canada. After completing my Bachelor of Business Administration, Crombie offered me management training and other professional development opportunities. I really value the focus and value Crombie puts on personal and professional growth. I've had a rewarding career and there are many more opportunities to come. Through all the growth and changes, the company always felt and continues to be familiar. I still work with people who were here when I joined more than a decade ago. We've accomplished so much, yet it still feels like we're just getting started. And that's truly exciting.
Dan Bourque
Director of Operations, Atlantic Canada
This really contributes to the collaborative environment and sense of community.
I was happy in my role as a city planner when I met some members of the Crombie team. After learning about the company, I decided to make a change. The opportunity to work in small collaborative teams on large and varied projects was very appealing. Now, as the Director of Development, Atlantic, I find myself interacting with colleagues from all areas of the company - leasing, construction, finance, accounting, and operations - on projects that can range from small commercial developments to large shopping centre or residential developments almost every day. One of the things I appreciate most about Crombie is the 'open door' policy to the highest levels of the organization.
Joseph Driscoll
Director of Development, Atlantic