We owe our success to our people.
Being supported in your professional development, having your contributions and unique talents valued, feeling a sense of challenge and purpose, and being surrounded by a highly engaged team that loves what they do are just a few of the reasons to join us at Crombie.
46 Years
Longest Serving Employee
---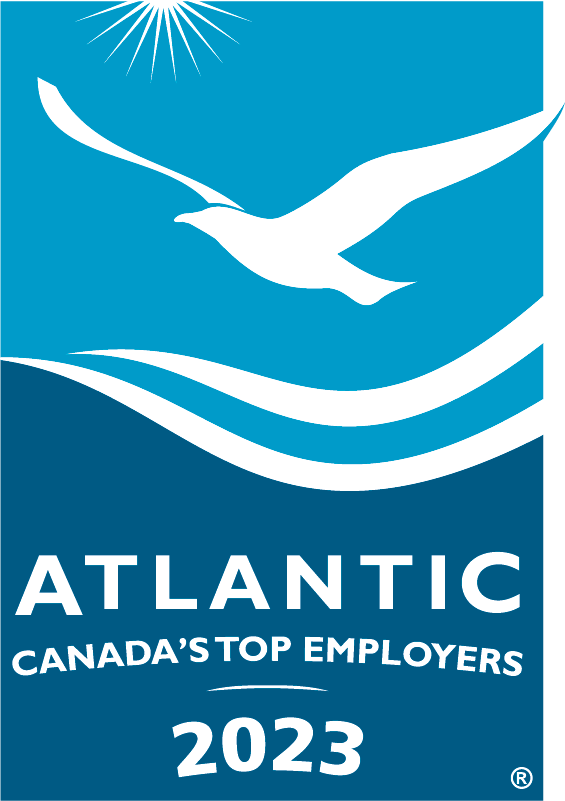 Atlantic Canada's Top Employers
We're proud of the awards we've won, including Atlantic Canada's Top Employer for several consecutive years. These awards recognize that we're building a space where talented people want to work. That space, and those people, are our number one priority.
It's important to love where you work!
Crombie isn't your typical REIT. And working at Crombie isn't like working anywhere else. Although we're spread across Canada, we're a tight-knit team all working toward one common goal: to enrich communities through long-term sustainable growth.
Competitive compensation, flexible work arrangements, learning and development opportunities, and some of the best colleagues in the industry are just some of the reasons to build your career at Crombie.
Learn more about life at Crombie
As an organization, we collaborate together as one team
"Crombie empowers me to do what I do best. My colleagues are passionate about what they do and understand the value of teamwork. As an organization, we collaborate together as one team which is a strong contributor to the company's success".
Carla Quigley
Director, Shared Services
Crombie understands that its people are at the center of its success, and it shows
"The company culture encourages personal development, prioritizes employee well-being, and promotes continual growth. When I joined the organization in 2019, I realized very quickly that Crombie is the right fit for me to build a fulfilling career".
Kaitlyn Siddall
Executive Manager
I'm proud of how resilient Crombie has proven to be throughout the pandemic
"Navigating through the COVID-19 pandemic, the team has demonstrated great agility and adaptability through strong communication and collaboration".
Annie Smith
Manager, Investments
Exciting transformation toward the future success of the company
"Crombie has evolved from a portfolio primarily consisting of community shopping centers, to include mixed-use, larger scale developments. This evolution and quality of our portfolio is an exciting transformation toward the future success of the company. Crombie's strong relationship with Sobeys, our preferred partner, builds on this success and helps establish us as a leader in Canadian real estate".
Karen Solursh-Smith
Senior Director, Leasing
Crombie's development projects are very exciting
"As part of the construction team, Crombie's pipeline of development projects is very exciting to me. I'm enabled to contribute to the success of the organization by driving projects with the skills I've acquired through experience, continued learning, and personal development opportunities. I learn from my colleagues, and that pushes me to set ambitious goals and continually work toward achieving them".
Michael Glynn
Project Manager
Commitment, collaboration, integrity, and relationships
"From my perspective, the most important of Crombie's guiding values are commitment, collaboration, integrity, and relationships. I feel that these values drive a business, and without them, it's challenging to make forward progress or have a healthy culture. Crombie lives these values every day through its commitment to enriching communities, supporting its tenants, and empowering employees. This dedication makes me a proud member of the team".
Ruth Martin
Senior Director, Investor Relations & Financial Analysis
Balancing future plans and aspirations with a foundational culture
"As a large, successful organization, it's important to set ambitious goals and focus on the future; but it's equally important to stay true to company roots and values. Crombie does an excellent job of balancing future plans and aspirations with the foundational culture that's helped to build its success".
Michael Verge
Senior Director, Information Systems & Technology
Sustainable design and construction is embedded in Crombie's development process
"I love being a part of an organization that considers building an environmentally sustainable future a key focus. Working directly on Crombie's developments, that are enriching the communities where we live and work, is something that fuels me to continue to build my career with Crombie".
Ian MacDonald
Director, Development
Crombie leads with powerful guiding values
"I have witnessed our team live up to these values countless times throughout my career. Our commitment to delivering excellence together resonates with me most, as it calls for an understanding of each others' needs and motivations, along with an appreciation of our talents and strengths. We often collaborate across many departments to support business and community needs. The outcomes of these cross-functional efforts are usually innovative, often hugely impactful, and always make me proud to work and practice public relations for Crombie".
Elizabeth Engram
Senior Manager, Marketing & Public Relations
Positively impacting communities across Canada with high-quality, sustainable real estate
"Crombie is driven by a collective goal, focused on positively impacting communities across Canada with high-quality, sustainable real estate. This shared objective allows the team to collaborate effectively and deliver strong results together, while staying inherently true to who we are. In planning and executing many exciting project opportunities at Crombie, I work with highly experienced and supportive colleagues who continually empower me to grow and excel".
Dukhee Nam
Director, Development Analytics
A culture that's inviting, friendly, and flexible
"In my role, the work is different from day to day, and I love that I'm learning with each new challenge and opportunity I'm given. Crombie provides me with the resources and support to continually grow on both a professional and personal level. I know that my strengths are valued, and I am empowered and encouraged to continually raise the bar with empathy and integrity. I'm driven to succeed with a company that is built on high performance and a commitment to collaboration, along with a culture that's inviting, friendly, and flexible".
Courtney Hall
Systems Analyst
Doing what's right is at the foundation of each decision
"Our guiding values truly capture and reflect Crombie's unique culture, and doing what's right is at the foundation of each decision. This has been especially evident throughout the COVID-19 pandemic, where Crombie provided many forms of ongoing support not only to our tenants, but also to our team. Personally, Crombie has actively encouraged and supported my community involvement with various charities and business groups throughout my career. This speaks volumes to the type of culture and workplace that is fostered, and I'm proud to work for an organization that prides itself on creating these positive impacts".
Matthew March
Senior Director, External Reporting
I've never witnessed such compassion and empathy in a business environment
Early in my time at Crombie, it was truly moving to see how the organization gathered to mourn the loss of a cherished colleague and friend to many. It was so touching to see how deeply my colleagues care for each other and the sense of family that's woven into Crombie's culture. I've never witnessed such compassion and empathy in a business environment, and in a manner that resonates through the whole organization. I observed this same compassion and caring repeatedly throughout the COVID-19 pandemic, as supporting the health and well-being of our team is Crombie's priority".
Jennifer Sieber
Vice President, Investments
Crombie's values guide the way we approach our work and interact with each other
"My team is one of the most hardworking, supportive, smart, and kind groups of people I have worked with in my career. Through sharing knowledge and experiences, and supporting and caring for one another, we work together to deliver each project successfully in order to help reach organizational goals and objectives. Crombie's values guide the way we approach our work and interact with each other, and I see these values demonstrated across the organization every day".
Natcha Wannaklang
Financial Analyst
Dedicated to achieving success together, through staying true to our roots
"I am proud to be part of an organization that is driven by a people-oriented, sustainable culture. This foundation, combined with the support, resources, and exposure that Crombie provides, allows me to thrive within the industry. Crombie's team is dedicated to achieving success together, through staying true to our roots and building a space that is empowering and inclusive. My work is a rewarding challenge, and I feel valued in the contributions that I bring to the organization".
Kyle Quigley
Manager, Financial Analysis
Honest, transparent communication
"When I began at Crombie, one thing that quickly stood out in my interactions with my colleagues was a true sense of authenticity. The signifier in each interaction was honest, transparent communication, and I believe this authenticity is apparent in each one of our employee-developed guiding values."
Fariche Alleyne
Property Manager
Our culture and guiding values enable our strategy and business objectives
"I'm very proud of our culture at Crombie, and how that culture, along with our guiding values, enables our business strategy. We have a driven and passionate team, and I'm excited to continue working together to achieve our business objectives."
Ashley Harrison
Senior Vice President, People & Culture