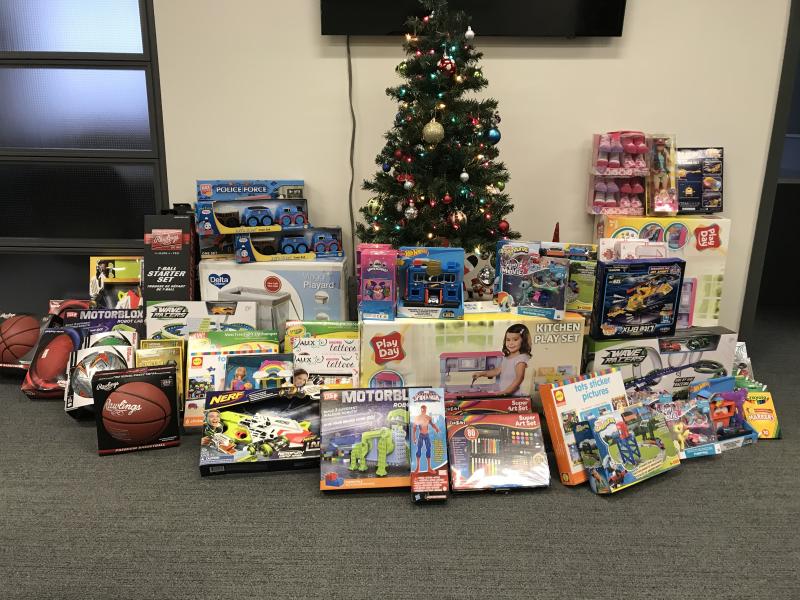 The holiday season is a time of year when charitable giving is especially top of mind. Crombie is committed to giving back to our communities, and our employees are at the heart of our initiatives. This holiday season, many team members across the country organized activities, volunteered, donated, and supported charitable causes this holiday season. Please join us in thanking them; their efforts have brought joy to so many and build on Crombie's promise to serve the communities we call home.
Here are just some examples of the generous actions made by our employees across the country this season:
The Mississauga and Burlington offices in Ontario contributed to the Peel Regional Police Toys for Tots campaign, collecting funds to donate toys to less fortunate children. In addition, employees collected food, clothing, toiletries and toys to donate to fire halls, churches and women's shelters, as well as volunteering at a local food bank.
New Glasgow NS office employees donated toys on the Christmas wish lists of 11 children this year as part of their Christmas Families initiative. They also provided additional support for community services via Sobeys gift cards.
Each year since 2006, the Halifax office has worked with the Salvation Army collecting gifts for the Angel Tree Program – an anonymous gift-giving initiative bringing Christmas joy to less fortunate children. Staff and generous Crombie clients collected toys, hats and mittens for the kids.
After decades of partnering with the Salvation Army to collect toys through the Avalon Mall Happy Tree program, this year Crombie employees in Newfoundland volunteered to see the program in action. Staff stocked tables with donated items, organized toys, helped families choose gifts for their children and helped distribute donations to over 2,000 families! In addition, employees in Newfoundland manned the Salvation Army donation pot located at the Avalon Mall for a day, gathering donations from customers.
Crombie is proud to enrich the communities in which we operate, and we are able to do that thanks to our kind, generous team.