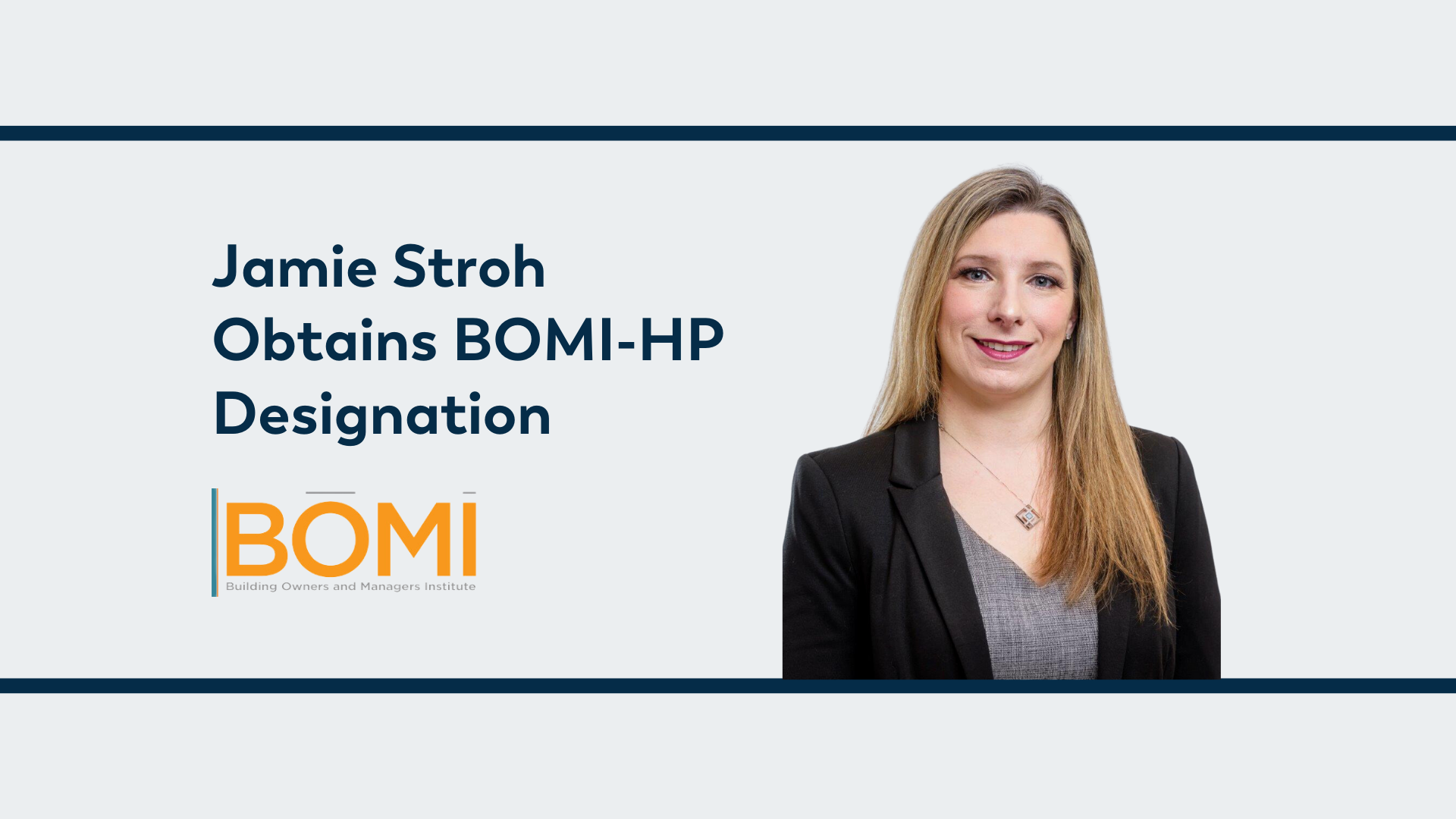 Join us in congratulating Jamie Stroh, our Property Manager at Avalon Mall, for obtaining her BOMI-HP® designation with Building Owners and Managers Institute International (BOMI International). This program provides participants with the knowledge to define, activate, and obtain a return on investment for sustainable initiatives throughout a portfolio.
The BOMI-HP® designation program is comprised of three sub-courses. "I successfully completed these courses through self-study at home," says Jamie. "I received my designation in April of this year, which marks my third designation with BOMI International." Jamie completed her Real Property Administrator (RPA) designation in September 2017, and her Facilities Management Administrator (FMA) designation in October 2018. "What I enjoyed most about the BOMI-HP® program is that it elevated the teachings of the previous designations by focusing on the sustainable impact of commercial properties. I have an innate interest in environmental responsibility, and I found the case studies and lessons in these programs both practical and inspiring."
In addition to Jamie's years of professional development and experience in our business, she currently serves as the President of the Building Owners & Managers Association in Newfoundland and Labrador (BOMA NL). BOMA NL is a not-for-profit association dedicated to the commercial real estate industry in Newfoundland and Labrador. Members of BOMA NL represent a variety of commercial building owners, property managers, professional services, and vendors that provide commercial services. Jamie joined the BOMA NL board in 2017, and soon after assumed the role of Marketing Director. In 2019, Jamie was appointed Vice President of BOMA NL and moved into her current role of President in 2022.
Congratulations to Jamie on obtaining her BOMI-HP® designation. Our team's commitment to ESG directly contributes to our Climate Action Plan and overall ESG goals and objectives.