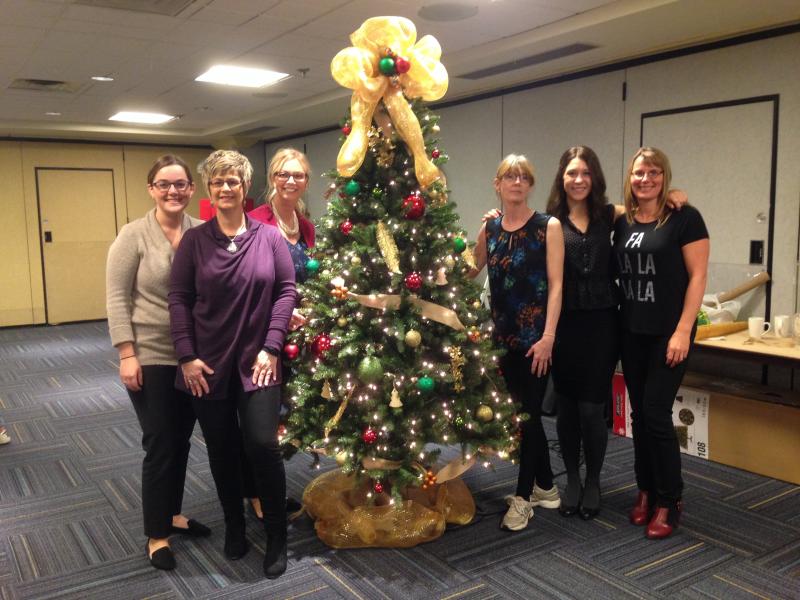 Crombie once again participated in the Mental Health Foundation of Nova Scotia's Festival of Trees at the World Trade and Convention Centre in Halifax on November 23rd. This event has helped to raise funds and awareness around mental health and wellness for over 25 years. Once decorated, trees were displayed at the Shannex Holiday Luncheon on November 24th and the RBC Black Tie Gala on November 25th.
Crombie's tree was themed around the Mental Health Continuum Model (MHCM). The MHCM is part of an education-based program by the Mental Health Commission of Canada, designed to address and promote mental health and reduce the stigma of mental illness in workplace settings. The MHCM categorizes one's mental health within a colour continuum, making it easier to have conversations about our mental wellness without using labels and their associated stigmas.
"Crombie REIT is committed to the health and wellness of our employees. Our holistic approach to total employee well-being focuses on more than just physical health, extending into areas including psychological and spiritual well-being, as well as career and work. Within our organization, we are actively breaking down barriers and having open and honest conversations about mental wellness and how it impacts each of us either directly or indirectly through our loved ones.
Crombie is incredibly proud to support the Mental Health Foundation of Nova Scotia's Festival of Trees, building awareness of and support for Nova Scotians and their families living with mental illness. On behalf of all of Crombie's employees across the country, I would like to extend my thanks and gratitude to the tireless staff and volunteers who are ambassadors for this great organization, and to Nova Scotians living with or touched by mental illness who so courageously share their stories and inspire us all."
Donald E. Clow
President & CEO, Crombie REIT