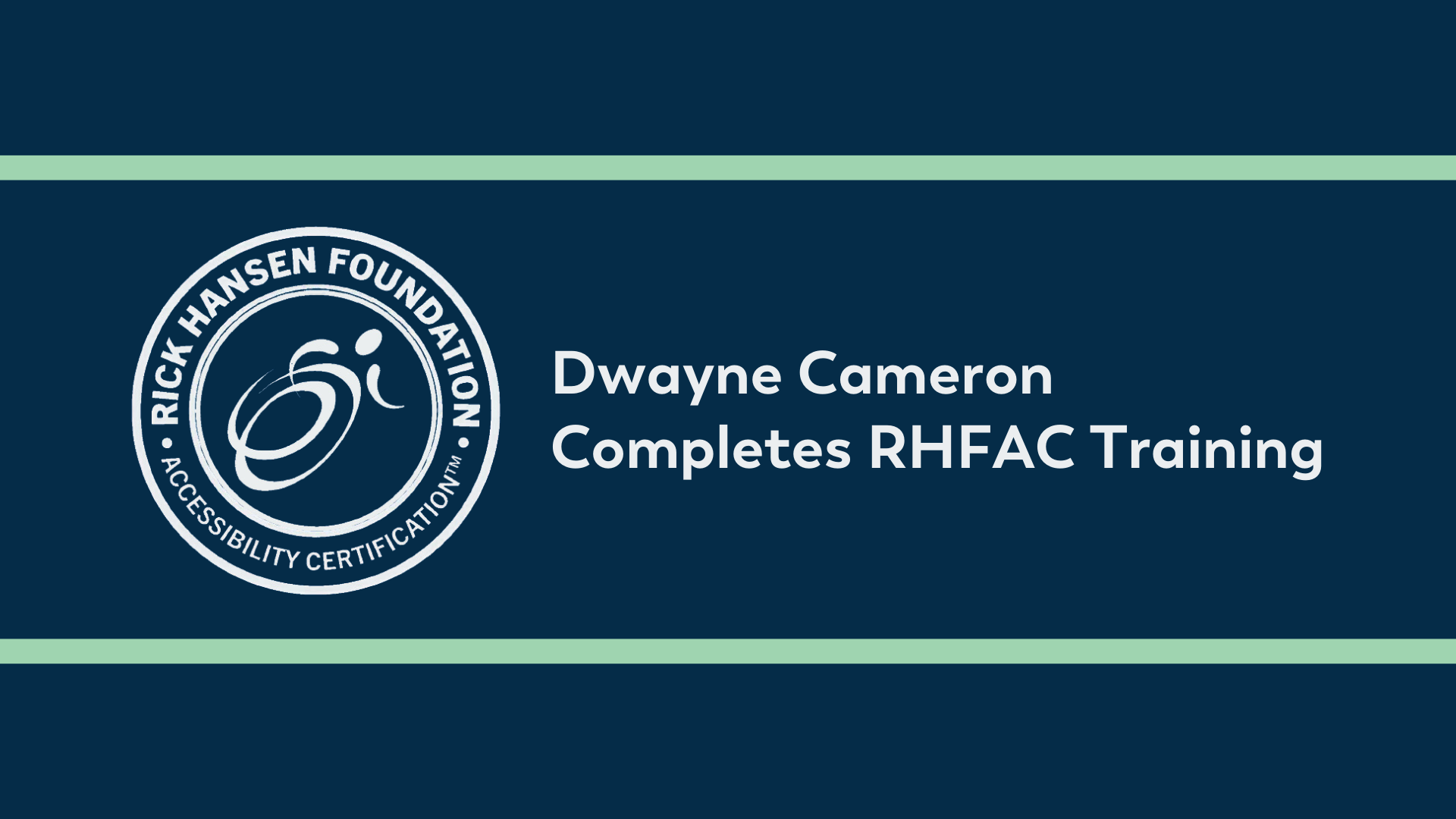 We are pleased to share that Dwayne Cameron, our Design Manager, has completed the Rick Hansen Foundation Accessibility Certification (RHFAC) Training course. This two-month program provides participants with the tools to unlock knowledge and practical skills needed to create spaces that are accessible and usable by all people.
Dwayne completed this program with the Nova Scotia Community College through online lectures, independent study, and practical reviews. "Shortly after she joined Crombie, Eva Parada, our Senior Director of Design and Construction, brought forward previous knowledge of the RHFAC Training course," says Dwayne. "I initially enrolled believing the program would enable me to improve the existing designs of our sites and buildings. Shortly after the course started, I realized the greater importance of the RHFAC program. The curriculum spans beyond simply improving designs. It focuses on optimizing building access to all people in our communities, regardless of their needs."
Today, roughly one in five Canadians identify as having a disability, and that number is growing as our population ages. For over three decades, the Rick Hansen Foundation has been raising awareness, changing attitudes, and breaking down barriers for people with disabilities. Through programs and initiatives, the Rick Hansen Foundation is working to create an accessible and inclusive world where people with disabilities can live to their full potential.
"What is my biggest takeaway from the course? The awareness I gained," says Dwayne. "Not only did I learn about the various obstacles and barriers faced by people in society, but how access can be improved by simple and inexpensive changes to design, materials, or products. For instance, try to put yourself in the place of a visually impaired person. Walking across an open floor area with a busy carpet or tile pattern could be challenging versus a linear pattern that better defines a path. One small change in floor pattern goes a long way to improve one's access and use."
As we enact our development program, Crombie will target certification at our properties and future projects, where possible. The Marlstone, a 291-unit residential rental project, will be the first LEED Gold and Rick Hansen certified high rise rental building in downtown Halifax, Nova Scotia. "Accessibility was a priority during the design process," says Aaron Bryant, our Vice President, Design and Construction of Eastern Canada. "Our Development and Construction team has worked diligently with our architects and consultants on design elements and upgrades at The Marlstone as a means of ensuring our project is as accessible as possible." In line with Crombie's vision of enhancing communities, The Marlstone will be built to accommodate Halifax's vibrant and diverse demographic. "I am grateful for Eva's proactive initiative and commitment to creating inclusive communities across Crombie's portfolio as we move forward on our ESG journey. Congratulations to Dwayne on his great accomplishment!" says Aaron.