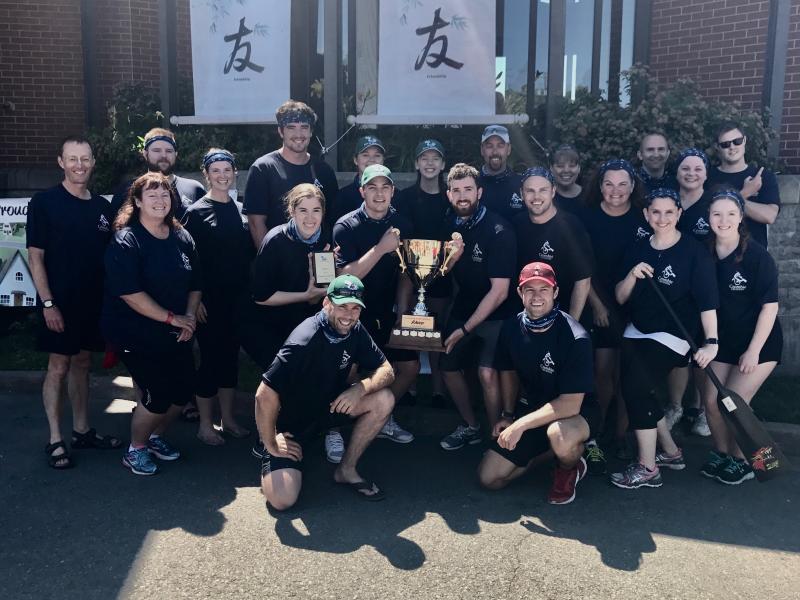 The New Glasgow Race on the River raises funds for breast and prostate cancer support groups, and the local Special Olympics team. For the past 16 years, Crombie REIT has entered a 21-person dragon boat team to compete for the coveted Sobeys Corporate Cup. This year, Chairman Frank Sobey set three goals for Crombie's team:
1. Have fun
2. Be the top fundraiser
3. WIN
The 2017 Crombie Crushers accomplished all three goals!
Fundraising Success
Thanks to the hard work of captains Matt March and Josh Carree, as well as fundraising captains Nathan Hines and Ruth Martin, this year's team raised over $38,000 and achieved fantastic times in their races, all while having a tremendous amount of fun.
Top overall event fundraising awards went to members of the Crombie team:
1. Glenn Hynes and Joan Murray
2. Aaron Bryant
3. Nathan Hines
A Photo Finish Win
The Crushers took to the waters of the East River at 8:40 AM, facing off against teams from NS Power and Sobeys. Crombie won that race handily, setting themselves up for a 10:40 race against Michelin and Connors. Though they came second in that race, all three boats achieved times of under a minute in that heat! Those amazing times led to a rematch of these three teams for the Corporate Final. Crombie spent the first half of that final in a close third place. Drummer Terri Lynn Driscoll ensured that everyone followed her count, and kept paddlers in perfect rhythm. At the halfway mark, Crombie and Connors pulled away from the Michelin team and battled it out till the last second. In the end, Crombie won by a dragon's tongue, and claimed the Sobeys Cup.
The teams that win dragon boat races are not necessarily those with the greatest brute strength or experience, but are always those boats with the greatest synchronicity. Congratulations to all involved! Paddles up!