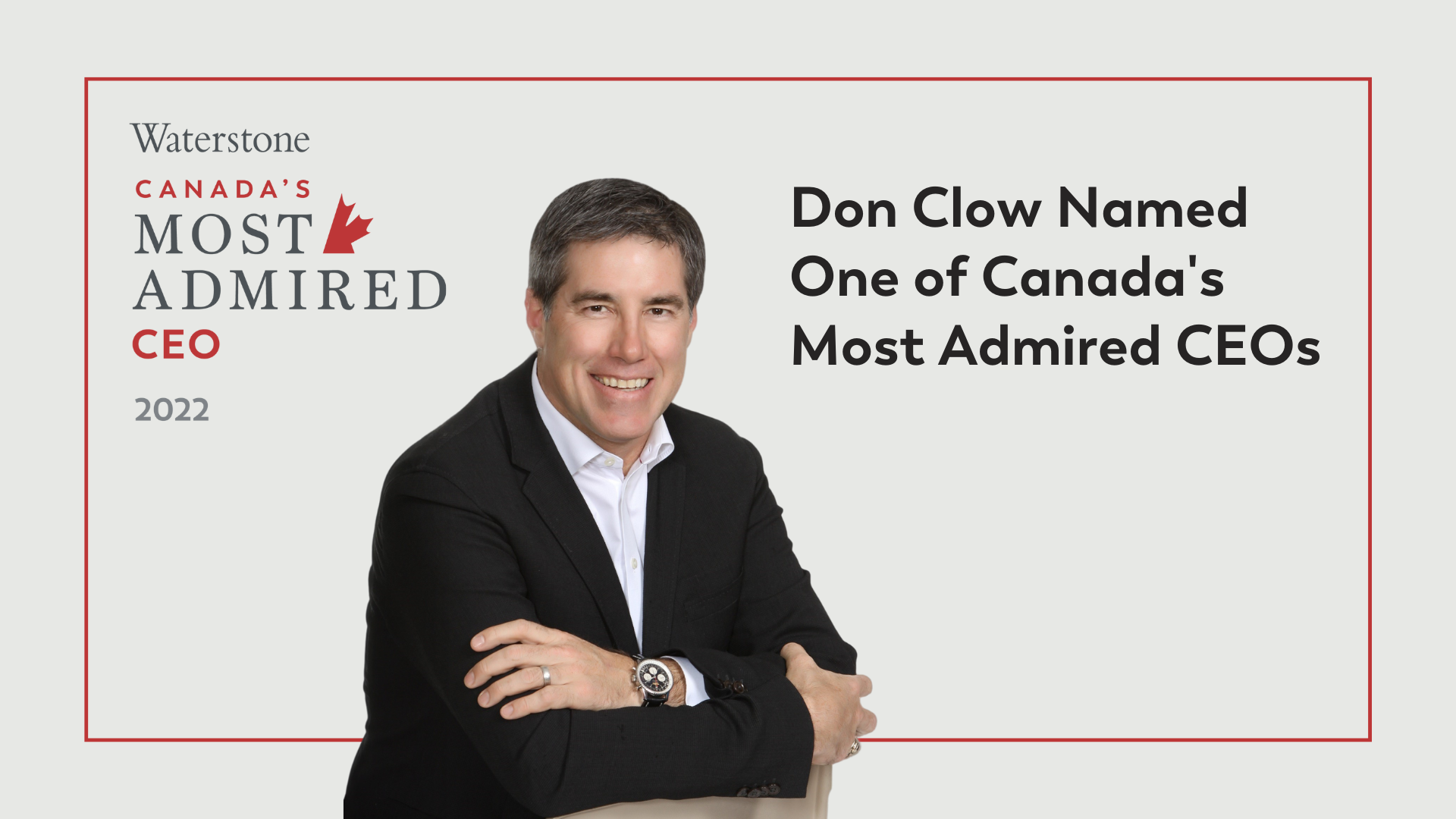 Crombie is proud to announce that Don Clow, President & CEO, has been named a recipient of the Canada's Most Admired CEO award by Waterstone Human Capital in the mid-market category. The award is presented to a group of respected Canadian CEOs who have achieved significant accomplishments throughout their careers. This group of respected individuals not only leads high-performing teams, but they create a culture within their organizations that optimizes performance and enables long-term success.
"In Don's 13 years at Crombie, he has led the organization's transformation from traditional grocery-anchored retail landlord to a strategic owner and developer of grocery-anchored retail, retail-related industrial, and mixed-use residential properties across Canada," says Michael Knowlton, Crombie Board Chair.
Crombie's caring culture is a sustainable competitive advantage and is core to our success. Policies such as Flexible Working Arrangements, Psychological Safety, Diversity, Equity, and Inclusion, and Community Investment give employees flexibility and create a safe, healthy, and inclusive work environment. Regular engagement surveys, quarterly company-wide connection calls, and CEO roundtables provide employees an opportunity to have their voices heard, and help senior leadership identify opportunities for improvement on teams across the organization. Employees are supported in their growth and development through a robust Learning and Development program, and are celebrated through comprehensive recognition programs. Our profound effort to establish a strong culture that permeates the organization has kept employees fully engaged and productive, and is instrumental to Crombie's success well into the future.
"I am humbled and honoured to receive this award," says Don Clow. "While it is awarded to the CEO, it is truly a reflection of the entire Crombie team and our collective commitment to a strong culture and our vision of enhancing neighbourhoods through long-term sustainable growth. We believe in the importance of our team defining the culture in which they want to work and, as a result, we have built a caring culture that inspires our team to consistently outperform expectations."
Congratulations to Don on receiving this prestigious award. The Crombie team values your commitment and dedication to our culture, and your exceptional organizational leadership.
The complete list of Canada's Most Admired CEO award winners can be viewed here.
For the full press release, visit https://www.crombie.ca/investors/releases/