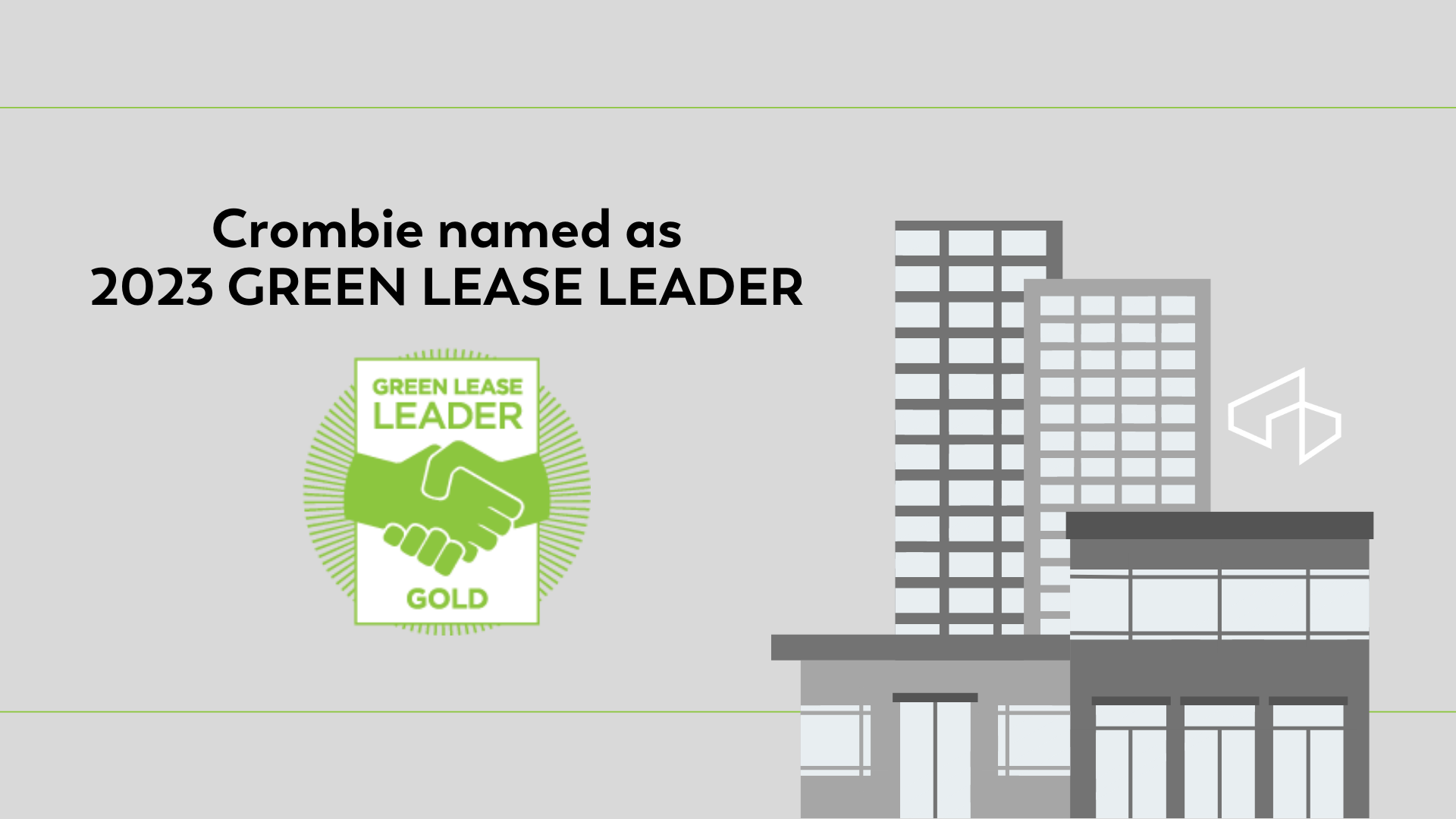 Crombie is proud to announce that we were named a 2023 Green Lease Leader receiving Gold Level by the Institute for Market Transformation and the U.S. Department of Energy's Better Buildings Initiative. These organizations set the global standard for lease language that fosters collaboration between landlords and tenants. This program has grown exponentially in the last year, which reflects wide acceptance that green leases are a critical tool for improving buildings and meeting corporate environmental and social goals. This year's Green Lease Leaders represent portfolios totaling over three billion square feet (sq. ft.) and comprise a diverse range of buildings from large and small commercial offices to data centers and industrial and multifamily buildings. The cumulative floor area of all Green Lease Leaders is now nearly 6.5 billion sq. ft. of building space. 
We share this accomplishment with our retail, office, industrial, and residential tenants. To achieve Crombie's vision of enriching neighbourhoods through long-term sustainable growth, it is imperative to embed sustainability in all facets of the business. This includes our commitment to developing our properties in a way that enhances local communities, and our approach to green leasing initiatives. To address green leasing more broadly, we engage in ongoing two-way communication with our tenants, such as annual tenant surveys, regular one-on-one check-ins, wellness programs, on-site events, and programming. On the path forward, we will continue to use these engagement practices to mobilize mutually beneficial green lease programs, ways to reduce our environmental impact, and partnership opportunities.
We are excited to continue being a leader in high-performance leasing practices that encourage collaborative landlord-tenant relationships, increased energy savings, and healthier and more sustainable working spaces. Crombie is proud of the progress our team has made, and eagerly looks forward to continued improvements across the portfolio. To learn more about this year's Green Lease Leaders, visit greenleaseleaders.com.
Thank you to Antonella Talarico and Rebecca Ortis with support from Heather McGowen, Chris Firth, Nathan Hines, and Angela Langille for completing the Green Lease Leader application and gathering the materials needed to receive this estimable award. These achievements are critical to the success of our sustainability vision and cannot be attained without successful collaboration.