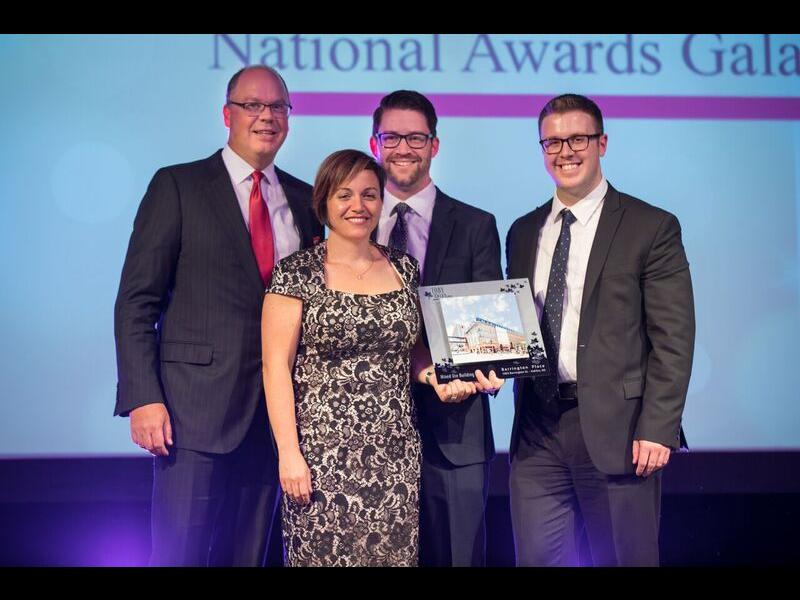 Crombie REIT's Barrington Place has been awarded the 2017 National TOBY (The Outstanding Building of the Year) Award for Best Mixed Use Building. This award, which was received at the BOMA Canada Awards Gala in Toronto last month, is one of the most prestigious and comprehensive awards in the commercial real estate industry. Recipients are recognized not only for quality in building operation and sustainable initiatives, but are also rewarded for excellence in building management.
Barrington Place is a five storey mixed use historic property on Barrington Street in Downtown Halifax, and is part of Crombie's Scotia Square complex. Our award winning client services team, ongoing energy saving initiatives, high security standards, and commitment to community engagement and employee training, all contributed to this achievement. All of Crombie's buildings in the Scotia Square complex are BOMA BEST Gold certified, including Barrington Place, and the management team received the BOMA Nova Scotia Pinnacle Award for Customer Service in 2015.
Located at the heart of the Downtown pedway network, Barrington Place is connected to a variety of amenities that make it an ideal location for both commercial and retail businesses. These include shopping, dining, banking, parking, fitness, a bicycle storage facility for clients, a medical clinic and drug store, hotels, entertainment and more.
The interior of Barrington Place was extensively renovated in 2013 while preserving the building's historic façade. In addition to modernizing common areas and client spaces, upgrades included installing occupancy sensors and LED lighting in common areas. A state-of-the-art GoodLife Fitness opened in Barrington Place in the fall of 2013, featuring controlled ventilation systems complete with variable frequency drives on supply and return fans, all natural gas hot water, and efficient lighting.