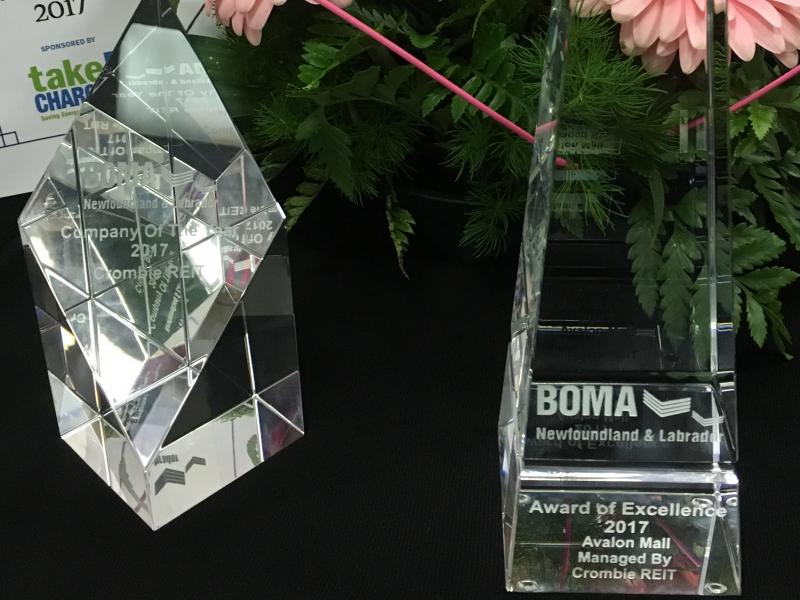 We're proud to share that Avalon Mall in St. John's, Newfoundland, was the recipient of two prestigious awards from BOMA Newfoundland & Labrador at their annual awards gala. On the heels of receiving BOMA BEST Silver certification in 2016, Avalon Mall now also holds its second Award of Excellence, which recognizes excellence in property and facility management. Further, Crombie REIT received the Company of the Year award, honouring a company that provides BOMA NL with support, contributes to the success of programs through participation in industry events, demonstrated volunteer efforts and financial support.
With the receipt of the Certificate of Excellence, Avalon Mall now qualifies to compete at the national level for The Outstanding Building of the Year (TOBY®) Award. Through the most prestigious and comprehensive program of its kind in the commercial real estate industry, this award recognizes quality in commercial real estate buildings and excellence in building management. During the competition, all facets of Avalon Mall's operations will be thoroughly evaluated and it will be judged on everything from community involvement to environmental and sustainability management.
Thanks and congratulations to the Environmental Committee (Willie Power, Larry Walton, Jamie Stroh, Stan Linstead, and Donna Vincent), whose efforts were instrumental in achieving these accomplishments, and to all the staff and clients at Avalon Mall for their continued participation and support of the activities and initiatives throughout the centre.
And special thanks to Jamie Stroh, who champions our environmental initiatives and takes on the challenging task of compiling the information and completing the lengthy submissions. Final congratulations go to Marcel Elliott for his unfailing leadership of the Avalon Mall team.
The Crombie REIT team is very proud to have the Avalon team recognized for the excellent work they do!